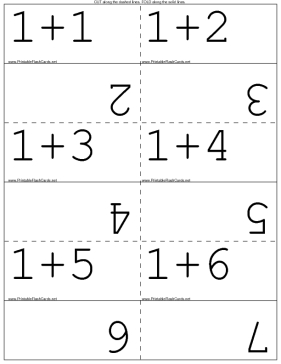 Addition Facts flash cards
Use this set of flash cards to learn basic addition facts from 1+1 to 12+12.
There are 144 flash cards in this set (24 pages to print.)
To use:
1. Print out the cards.
2. Cut along the dashed lines.
3. Fold along the solid lines.
My safe download promise
. Downloads are subject to this site's
term of use
.












This set of flash cards belongs to these categories:
math
early_childhood
Sample flash cards in this set:
Front: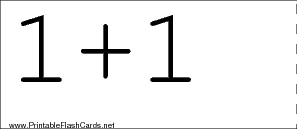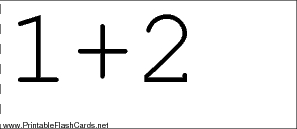 Back: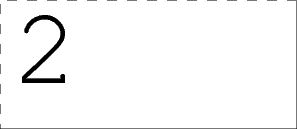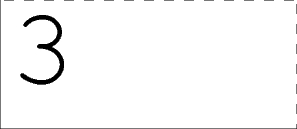 This set includes the following cards:
| Questions | Answers |
| --- | --- |
| 1+1 | 2 |
| 1+2 | 3 |
| 1+3 | 4 |
| 1+4 | 5 |
| 1+5 | 6 |
| 1+6 | 7 |
| 1+7 | 8 |
| 1+8 | 9 |
| 1+9 | 10 |
| 1+10 | 11 |
| 1+11 | 12 |
| 1+12 | 13 |
| 2+1 | 3 |
| 2+2 | 4 |
| 2+3 | 5 |
| 2+4 | 6 |
| 2+5 | 7 |
| 2+6 | 8 |
| 2+7 | 9 |
| 2+8 | 10 |
| 2+9 | 11 |
| 2+10 | 12 |
| 2+11 | 13 |
| 2+12 | 14 |
| 3+1 | 4 |
| 3+2 | 5 |
| 3+3 | 6 |
| 3+4 | 7 |
| 3+5 | 8 |
| 3+6 | 9 |
| 3+7 | 10 |
| 3+8 | 11 |
| 3+9 | 12 |
| 3+10 | 13 |
| 3+11 | 14 |
| 3+12 | 15 |
| 4+1 | 5 |
| 4+2 | 6 |
| 4+3 | 7 |
| 4+4 | 8 |
| 4+5 | 9 |
| 4+6 | 10 |
| 4+7 | 11 |
| 4+8 | 12 |
| 4+9 | 13 |
| 4+10 | 14 |
| 4+11 | 15 |
| 4+12 | 16 |
| 5+1 | 6 |
| 5+2 | 7 |
| 5+3 | 8 |
| 5+4 | 9 |
| 5+5 | 10 |
| 5+6 | 11 |
| 5+7 | 12 |
| 5+8 | 13 |
| 5+9 | 14 |
| 5+10 | 15 |
| 5+11 | 16 |
| 5+12 | 17 |
| 6+1 | 7 |
| 6+2 | 8 |
| 6+3 | 9 |
| 6+4 | 10 |
| 6+5 | 11 |
| 6+6 | 12 |
| 6+7 | 13 |
| 6+8 | 14 |
| 6+9 | 15 |
| 6+10 | 16 |
| 6+11 | 17 |
| 6+12 | 18 |
| 7+1 | 8 |
| 7+2 | 9 |
| 7+3 | 10 |
| 7+4 | 11 |
| 7+5 | 12 |
| 7+6 | 13 |
| 7+7 | 14 |
| 7+8 | 15 |
| 7+9 | 16 |
| 7+10 | 17 |
| 7+11 | 18 |
| 7+12 | 19 |
| 8+1 | 9 |
| 8+2 | 10 |
| 8+3 | 11 |
| 8+4 | 12 |
| 8+5 | 13 |
| 8+6 | 14 |
| 8+7 | 15 |
| 8+8 | 16 |
| 8+9 | 17 |
| 8+10 | 18 |
| 8+11 | 19 |
| 8+12 | 20 |
| 9+1 | 10 |
| 9+2 | 11 |
| 9+3 | 12 |
| 9+4 | 13 |
| 9+5 | 14 |
| 9+6 | 15 |
| 9+7 | 16 |
| 9+8 | 17 |
| 9+9 | 18 |
| 9+10 | 19 |
| 9+11 | 20 |
| 9+12 | 21 |
| 10+1 | 11 |
| 10+2 | 12 |
| 10+3 | 13 |
| 10+4 | 14 |
| 10+5 | 15 |
| 10+6 | 16 |
| 10+7 | 17 |
| 10+8 | 18 |
| 10+9 | 19 |
| 10+10 | 20 |
| 10+11 | 21 |
| 10+12 | 22 |
| 11+1 | 12 |
| 11+2 | 13 |
| 11+3 | 14 |
| 11+4 | 15 |
| 11+5 | 16 |
| 11+6 | 17 |
| 11+7 | 18 |
| 11+8 | 19 |
| 11+9 | 20 |
| 11+10 | 21 |
| 11+11 | 22 |
| 11+12 | 23 |
| 12+1 | 13 |
| 12+2 | 14 |
| 12+3 | 15 |
| 12+4 | 16 |
| 12+5 | 17 |
| 12+6 | 18 |
| 12+7 | 19 |
| 12+8 | 20 |
| 12+9 | 21 |
| 12+10 | 22 |
| 12+11 | 23 |
| 12+12 | 24 |