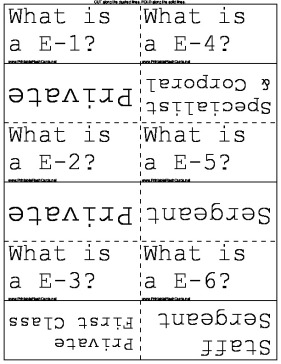 Army Ranks flash cards
These flashcards cover army rank by pay grade classification.
There are 25 flash cards in this set (5 pages to print.)
To use:
1. Print out the cards.
2. Cut along the dashed lines.
3. Fold along the solid lines.
My safe download promise
. Downloads are subject to this site's
term of use
.






Sample flash cards in this set:
Front: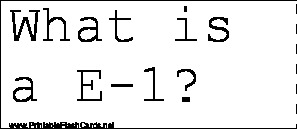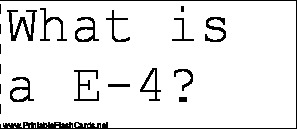 Back: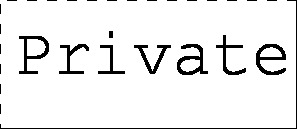 This set includes the following cards:
| Questions | Answers |
| --- | --- |
| What is a E-1? | Private |
| What is a E-4? | Specialist & Corporal |
| What is a E-2? | Private |
| What is a E-5? | Sergeant |
| What is a E-3? | Private First Class |
| What is a E-6? | Staff Sergeant |
| What is a E-7? | Sergeant First Class |
| What is a E-8? | Master Sergeant & First Sergeant |
| What is a E-9 | Sergeant Major, Command Sergeant Major, & Sergeant Major of the Army |
| What is a W0-1? | Warrant Officer |
| What is a CW-2? | Chief Warrant Officer |
| What is a CW-3? | Chief Warrant Officer |
| What is a CW-4? | Chief Warrant Officer |
| What is a CW-5? | Chief Warrant Officer |
| What is a O-1? | Second Lieutenant |
| What is a O-2? | First Lieutenant |
| What is a O-3? | Captain |
| What is a O-4? | Major |
| What is a O-5? | Lieutenant Colonel |
| What is a O-6? | Colonel |
| What is a O-7? | Brigadier General |
| What is a O-8? | Major General |
| What is a O-9? | Lieutenant General |
| What is a O-10? | General |
| What is a O-11? | General of the Army |