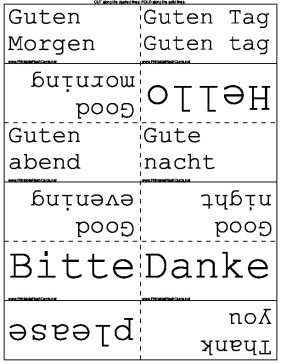 Basic German Phrases flash cards
These flashcards cover many basic German phrases, such as hello and goodbye. If you're starting German classes or planning a trip to Germany, these flashcards are perfect for you.
There are 24 flash cards in this set (4 pages to print.)
To use:
1. Print out the cards.
2. Cut along the dashed lines.
3. Fold along the solid lines.
My safe download promise
. Downloads are subject to this site's
term of use
.





Sample flash cards in this set:
Front: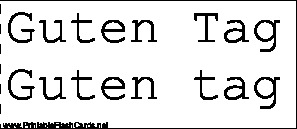 Back: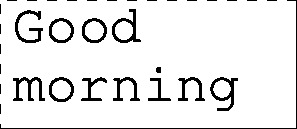 This set includes the following cards:
| Questions | Answers |
| --- | --- |
| Guten Morgen | Good morning |
| Guten Tag Guten tag | Hello |
| Guten abend | Good evening |
| Gute nacht | Good night |
| Bitte | please |
| Danke | Thank you |
| Entschuldigung | Excuse me |
| Tag | Hello.Hi |
| Auf Wiedersehen | Goodbye |
| Es tut mir leid | Im sorry |
| Ja | Yes |
| Nein | No |
| Bis morgen | See you tomorrow |
| Du sprichst deustch, nicht wahr? | You speak german dont you? |
| Ja, ich spreche deutsch | Yes I do speak german |
| Angenehm( Es freut mich) | Im pleased to meet you |
| Wie geht's? | How are you? |
| Gut,danke,und dir? | Fine thanks and you? |
| Nicht schlecht | Not bad.All right |
| Wo wohnst du? | Were do you live? |
| Ich wohne in | I live in... |
| Wie alt bist du? | How old are you? |
| Ich bin | I am.. |
| Jahre aly | ..Years old |