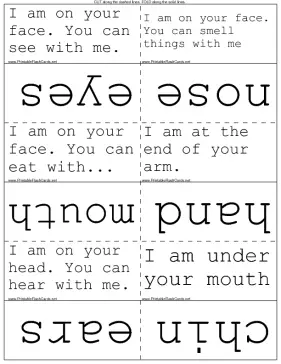 Body Parts (for Kids) flash cards
Use these flash cards to help children learn parts of the body.
There are 12 flash cards in this set (2 pages to print.)
To use:
1. Print out the cards.
2. Cut along the dashed lines.
3. Fold along the solid lines.
My safe download promise
. Downloads are subject to this site's
term of use
.







This set of flash cards belongs to these categories:
early_childhood
Sample flash cards in this set:
Front: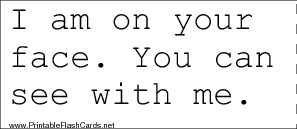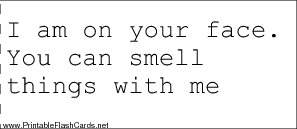 Back: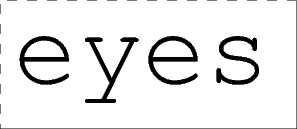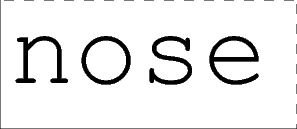 This set includes the following cards:
| Questions | Answers |
| --- | --- |
| I am on your face. You can see with me. | eyes |
| I am on your face. You can smell things with me | nose |
| I am on your face. You can eat with... | mouth |
| I am at the end of your arm. | hand |
| I am on your head. You can hear with me. | ears |
| I am under your mouth | chin |
| I am over your chin. | mouth |
| I am at the end of your leg.You can kick with me. | feet |
| I am at the end of your feet. I wiggle. | Toes |
| I am in the middle of your belly. | belly button |
| I am of many colors. Some have me long; others have "me" short... | hair |
| I am of many colors. Some have me blue; others have "me" brown... | eyes |