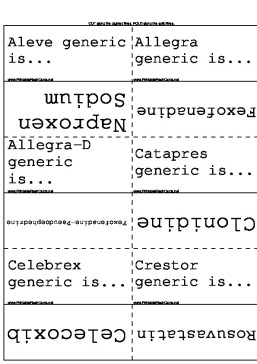 Brand and Generic Drugs flash cards
Great for pharmacology students, these printable flash cards provide brand names of drugs and their generic alternatives.
There are 31 flash cards in this set (6 pages to print.)
To use:
1. Print out the cards.
2. Cut along the dashed lines.
3. Fold along the solid lines.
My safe download promise
. Downloads are subject to this site's
term of use
.






Sample flash cards in this set:
Front: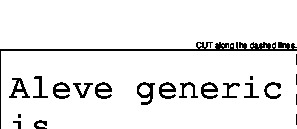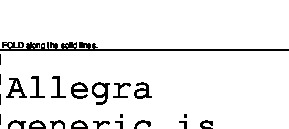 Back: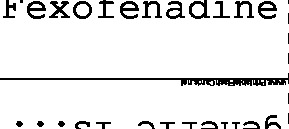 This set includes the following cards:
| Questions | Answers |
| --- | --- |
| Aleve generic is... | Naproxen Sodium |
| Allegra generic is... | Fexofenadine |
| Allegra-D generic is... | Fexofenadine-Pseudoephedrine |
| Catapres generic is... | Clonidine |
| Celebrex generic is... | Celecoxib |
| Crestor generic is... | Rosuvastatin |
| Flomax generic is... | Tamsulosin |
| Klonopin generic is... | Clonazepam |
| Lipitor generic is... | Atorvastatin |
| Lyrica generic is... | Pregabalin |
| Naproxen Sodium brand is... | Aleve |
| Fexofenadine brand is... | Allegra |
| Fexofenadine-Pseudoephedrine brand is... | Allegra-D |
| Clonidine brand is... | Catapres |
| Celecoxib brand is... | Celebrex |
| Rosuvastatin brand is... | Crestor |
| Tamsulosin brand is... | Flomax |
| Clonazepam brand is... | Klonopin |
| Atorvastatin brand is... | Lipitor |
| Pregabalin brand is... | Lyrica |
| Aleve / Naproxen Sodium is a... | NSAID Pain Reliever |
| Allegra / Fexofenadine is a... | Antihistamine |
| Allegra-D - Fexofenadine-Pseudoephedrine is a... | Antihistamine |
| Catapres - Clonidineis a... | Blood Pressure Med |
| Celebrex - Celecoxib is a... | NSAID Pain Reliever |
| Crestor - Rosuvastatin is a... | Cholesterol Med |
| Flomax - Tamsulosin is a... | Prostate / Alpha Blocker |
| Klonopin - Clonazepam is a... | Anxiety - Hypnotic (benzodiazepine) |
| Lipitor - Atorvastatin is a... | Cholesterol Med |
| Lyrica - Pregabalin is a... | Neuropathic (Nerve) Pain Reliever |
| NSAID stands for... | Non Steroidal Anti Inflammatory Drug |