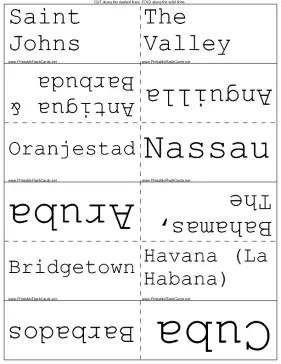 Caribbean Capitals flash cards
Use these flash cards to help you memorize the capital cities of the major Caribbean islands.
There are 22 flash cards in this set (4 pages to print.)
To use:
1. Print out the cards.
2. Cut along the dashed lines.
3. Fold along the solid lines.
My safe download promise
. Downloads are subject to this site's
term of use
.





Sample flash cards in this set:
Front: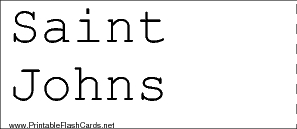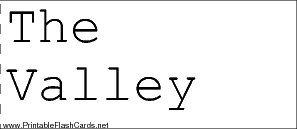 Back: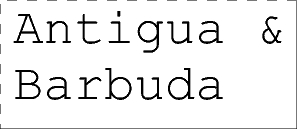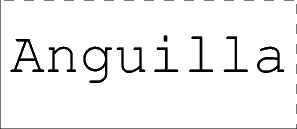 This set includes the following cards:
| Questions | Answers |
| --- | --- |
| Saint Johns | Antigua & Barbuda |
| The Valley | Anguilla |
| Oranjestad | Aruba |
| Nassau | Bahamas, The |
| Bridgetown | Barbados |
| Havana (La Habana) | Cuba |
| Willemstad | Curacao |
| Roseau | Dominica |
| Santo Domingo | Dominican Republic |
| Saint Georges | Grenada |
| Basse Terre | Guadelupe |
| Port-au-Prince | Haiti |
| Kingston | Jamaica |
| Fort de France | Martinique |
| Plymouth | Montserrat |
| San Juan | Puerto Rico |
| Basseterre | Saint Kitts and Nevis |
| Castries | Saint Lucia |
| Phillipsburg (Dutch), Marigot (French) | St. Martin |
| Kingstown | Saint Vincent & Grenadines |
| Port of Spain | Trinidad & Tobago |
| Charlotte Amalie | U.S. Virgin Islands |