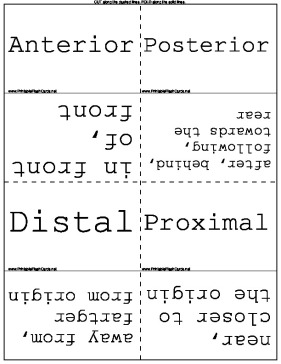 Directional Terminology flash cards
These flash cards cover medical directional terminology, and are perfect for anyone studying anatomy.
There are 13 flash cards in this set (4 pages to print.)
To use:
1. Print out the cards.
2. Cut along the dashed lines.
3. Fold along the solid lines.
My safe download promise
. Downloads are subject to this site's
term of use
.






Sample flash cards in this set:
Front: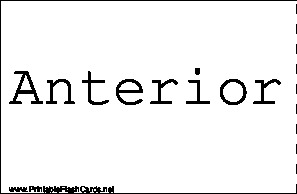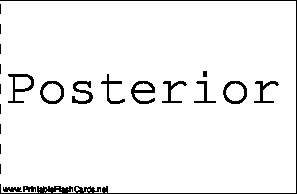 Back: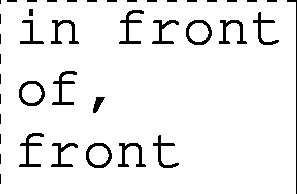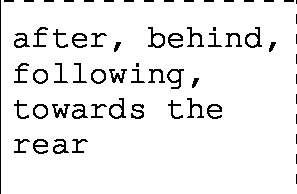 This set includes the following cards:
| Questions | Answers |
| --- | --- |
| Anterior | in front of, front |
| Posterior | after, behind, following, towards the rear |
| Distal | away from, fartger from origin |
| Proximal | near, closer to the origin |
| Dorsal | near the upper surface, towards the back |
| Ventral | towards the bottom, towards the belly |
| Lateral | toward the side, away from the middle |
| Medial | pertaining to the middle, in towards or near to the middle of the body |
| Rostral | toward the front (nose) |
| Palmar | relating tot he palm of the hand or paw |
| Plantar | relating to or occuring on thesole of the foot or a paw |
| Cranial | towards the front, towards the head |
| Caudal | Towards the back, towards the tail |