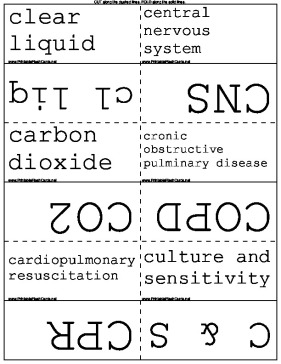 Emergency Room Abbreviations flash cards
Working in an Emergency Room or other medical facility often requires knowledge of specialized abbreviations found on forms and records. These flash cards will help prepare you for a career in an ER.
There are 47 flash cards in this set (8 pages to print.)
To use:
1. Print out the cards.
2. Cut along the dashed lines.
3. Fold along the solid lines.
My safe download promise
. Downloads are subject to this site's
term of use
.






Sample flash cards in this set:
Front: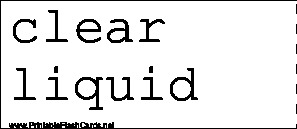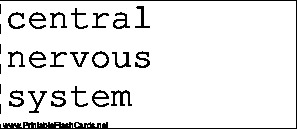 Back: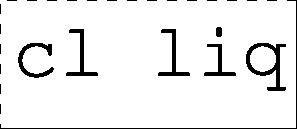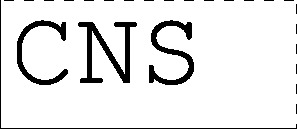 This set includes the following cards:
| Questions | Answers |
| --- | --- |
| clear liquid | cl liq |
| central nervous system | CNS |
| carbon dioxide | CO2 |
| cronic obstructive pulminary disease | COPD |
| cardiopulmonary resuscitation | CPR |
| culture and sensitivity | C & S |
| cesarean section | C-Section |
| cerebrovascular accident | CVA |
| chest x-ray | CXR |
| dilation & curettage | D & C |
| discharge | disch |
| diabetes mellitus | DM |
| dead on arrival | DOA |
| date of birth | DOB |
| deep vein thrombosis | DVT |
| diagonosis | Dx |
| electrocardiogram | ECG |
| emergency department | ED |
| eyes, ears, nose, and throat | EENT |
| electrocardiogram | EKG |
| ears, nose, and throat | ENT |
| etiology | etio |
| examination | exam |
| Fahrenheit | F |
| fast blood sugar | FBS |
| fetal heart tones | FHT |
| influenza | flu |
| fracture | Fx |
| gastroesophageal reflux disease | GERD |
| gastrointestional | GI |
| gun shot wound | GSW |
| drops | gtt |
| genitourinary | GU |
| gynecology | Gyn |
| hour | h |
| hemoglobin & hematocrit | H & H |
| hematocrit | Hct |
| hemoglobin | hgb |
| water | H2O |
| hydrogen peroxide | H2O2 |
| head of bed | HOB |
| history and physical examination | H & P |
| height | ht |
| hypertension | HTN |
| history | Hx |
| intensive care unit | ICU |
| insulin-dependent Diabetes mellitus | IDDM |