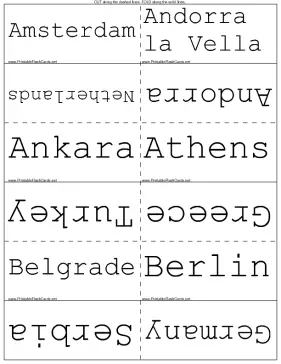 European Capitals flash cards
Use these flash cards to memorize the capitals of European countries.
There are 47 flash cards in this set (8 pages to print.)
To use:
1. Print out the cards.
2. Cut along the dashed lines.
3. Fold along the solid lines.
My safe download promise
. Downloads are subject to this site's
term of use
.







Sample flash cards in this set:
Front: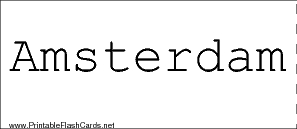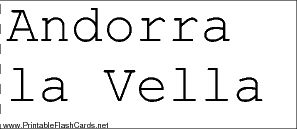 Back: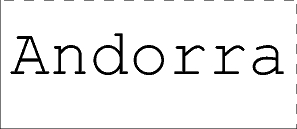 This set includes the following cards:
| Questions | Answers |
| --- | --- |
| Amsterdam | Netherlands |
| Andorra la Vella | Andorra |
| Ankara | Turkey |
| Athens | Greece |
| Belgrade | Serbia |
| Berlin | Germany |
| Bern | Switzerland |
| Bratislava | Slovakia |
| Brussels | Belgium |
| Bucharest | Romania |
| Budapest | Hungary |
| Chisinau | Moldova |
| Copenhagen | Denmark |
| Dublin | Ireland |
| Helsinki | Finland |
| Kiev | Ukraine |
| Lisbon | Portugal |
| Ljubljana | Slovenia |
| London | United Kingdom |
| Luxembourg | Luxembourg |
| Madrid | Spain |
| Minsk | Belarus |
| Monaco | Monaco |
| Moscow | Russia |
| Nicosia | Cyprus |
| Nuuk | Greenland |
| Oslo | Norway |
| Paris | France |
| Podgorica | Montenegro |
| Prague | Czech Republic |
| Reykjavik | Iceland |
| Riga | Latvia |
| Rome | Italy |
| San Marino | San Marino |
| Sarajevo | Bosnia & Herzegovina |
| Skopje | Macedonia |
| Sofia | Bulgaria |
| Stockholm | Sweden |
| Tallinn | Estonia |
| Tirana | Albania |
| Vaduz | Liechtenstein |
| Valletta | Malta |
| Vatican City | Holy See |
| Vienna | Austria |
| Vilnius | Lithuania |
| Warsaw | Poland |
| Zagreb | Croatia |