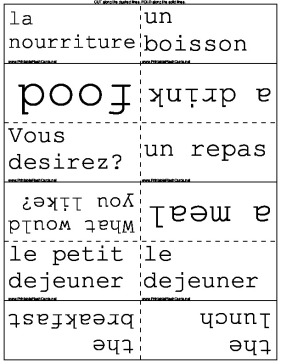 French and English Food Terms flash cards
Learn how to order different meals in French and English with these printable food flash cards.
There are 48 flash cards in this set (8 pages to print.)
To use:
1. Print out the cards.
2. Cut along the dashed lines.
3. Fold along the solid lines.
My safe download promise
. Downloads are subject to this site's
term of use
.






Sample flash cards in this set:
Front: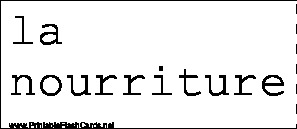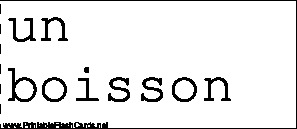 Back: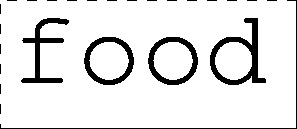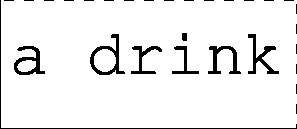 This set includes the following cards:
| Questions | Answers |
| --- | --- |
| la nourriture | food |
| un boisson | a drink |
| Vous desirez? | What would you like? |
| un repas | a meal |
| le petit dejeuner | the breakfast |
| le dejeuner | the lunch |
| le diner | the dinner |
| l'eau (minerale) | water |
| la viande | the meat |
| les fruits de mer | the seafood |
| les legumes | the vegetables |
| le poisson | the fish |
| le poulet | the chicken |
| les pommes de terre | the potatoes |
| les pommes | the apples |
| la confiture | the jam/jelly |
| le pain | the bread |
| les haricots (vert) | the green beans |
| une crepe | a thin pancake, for dessert |
| le fromage | the cheese |
| le vin | the wine |
| le plat | the dish |
| le hors d'oeuvre | the appetizer |
| acheter | to buy |
| commander | to order |
| l'assiette | the plate |
| le couteau | the knife |
| la fourchette | the fork |
| la cuiller | the spoon |
| la nappe | the tablecloth |
| la tasse | the cup |
| la verre | the glass |
| le poivre | the pepper |
| le sel | the salt |
| les petits pois | the peas |
| le cafe | the coffee |
| le lait | the milk |
| le riz | the rice |
| j'ai faim | I'm hungry |
| j'ai soif | I'm thirsty |
| Je bois | I drink |
| Je prends | I take (eat or drink) |
| J'aimerais | I would like |
| Je voudrais | I would like |
| Bon Appetit! | Enjoy your meal! |
| le prix | the price |
| le serveur/la serveuse | the server |
| le jambon | ham |