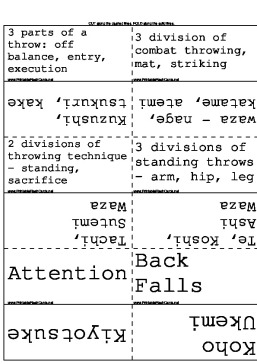 Judo Terms flash cards
Martial arts students studying Judo will enjoy learning the terms in the original Japanese in these printable flash cards.
There are 33 flash cards in this set (6 pages to print.)
To use:
1. Print out the cards.
2. Cut along the dashed lines.
3. Fold along the solid lines.
My safe download promise
. Downloads are subject to this site's
term of use
.






Sample flash cards in this set:
Front: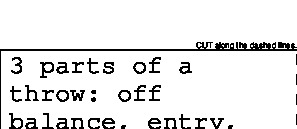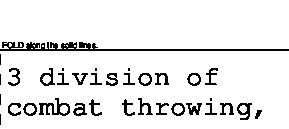 Back: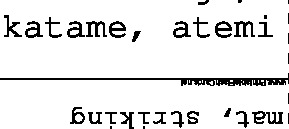 This set includes the following cards:
| Questions | Answers |
| --- | --- |
| 3 parts of a throw: off balance, entry, execution | Kuzushi, tsukuri, kake |
| 3 division of combat throwing, mat, striking | waza - nage, katame, atemi |
| 2 divisions of throwing technique - standing, sacrifice | Tachi, Sutemi Waza |
| 3 divisions of standing throws - arm, hip, leg | Te, Koshi, Ashi Waza |
| Attention | Kiyotsuke |
| Back Falls | Koho Ukemi |
| Forward Falls | Zempo Ukemi |
| Falling methods or ways | Ukemi |
| Shoulder | Seoi |
| Natural | Shizen |
| Knee | Hiza |
| Wheel | Guruma |
| Foot | Ashi |
| Continue | Yoshi |
| I surrender | Maitta |
| Advanced Foot Sweep | De Ashi Barai |
| Dont Move | Soto Mama |
| Upper Corners Hold | Kami Shiho Gatame |
| Escape (from a hold) | Fusegi |
| Forms of off balancing | Happo no kuzuski |
| to float | Uki |
| Defense (to an attack) | Bogyo |
| Right | Migi |
| Left | Hidart |
| Lower Prop | Sasae |
| Lift | Tsuri |
| Pull | Kami |
| Belt | Obe |
| Sleeve | Sode |
| Lapel | Eri |
| Jacket | Uwagi |
| Tournament | Shiai |
| Foot Stomp Throw | Sasae tsuri Komi Ashi |