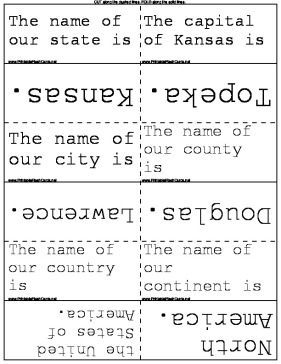 Kansas Facts flash cards
The facts about Kansas in these flash cards cover everything from the first governor to the state reptile.
There are 27 flash cards in this set (5 pages to print.)
To use:
1. Print out the cards.
2. Cut along the dashed lines.
3. Fold along the solid lines.
My safe download promise
. Downloads are subject to this site's
term of use
.






Sample flash cards in this set:
Front: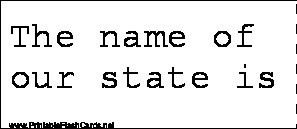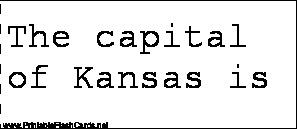 Back: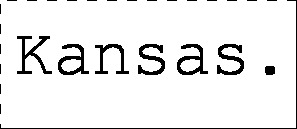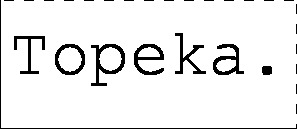 This set includes the following cards:
| Questions | Answers |
| --- | --- |
| The name of our state is | Kansas. |
| The capital of Kansas is | Topeka. |
| The name of our city is | Lawrence. |
| The name of our county is | Douglas. |
| The name of our country is | the United States of America. |
| The name of our continent is | North America. |
| The state flower is the | sunflower. |
| The state bird is the | western meadowlark. |
| The state animal is the | buffalo. |
| The state tree is the | cottonwood. |
| The state insect is the | honey bee. |
| The state reptile is the | ornate box turtle. |
| The state song is | Home on the Range |
| The highest elevation in Kansas is | Mount Sunflower 4,039 feet |
| Rivers in Kansas flow | east and southeast. |
| The largest lake in Kansas is | Milford Lake. |
| Kansas is named after the | Kansa or Kaw Indians. |
| The word Kansas means | people of the south wind. |
| Kansas became a state on | January 29, 1861. |
| Kansas is | 152 years old. |
| Kansas was the | 34th state. |
| The governor of Kansas is | Sam Brownback. |
| The first governor of Kansas was | Charles Robinson. |
| Abilene, Kansas is home to the library and museum of | President Dwight Eisenhower. |
| Who fought to make Kansas free? | Jayhawkers. |
| The president of the United States is | Barack Obama. |
| The mayor of Lawrence is | Bob Schumm. |