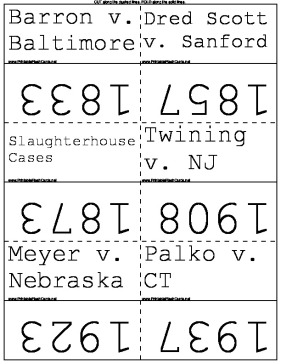 Legal Cases by Year flash cards
These flashcards cover the years in which many important legal cases were settled.
There are 65 flash cards in this set (11 pages to print.)
To use:
1. Print out the cards.
2. Cut along the dashed lines.
3. Fold along the solid lines.
My safe download promise
. Downloads are subject to this site's
term of use
.






Sample flash cards in this set:
Front: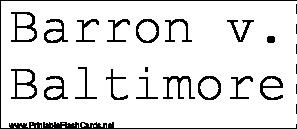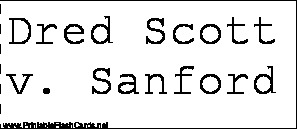 Back: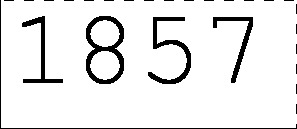 This set includes the following cards:
| Questions | Answers |
| --- | --- |
| Barron v. Baltimore | 1833 |
| Dred Scott v. Sanford | 1857 |
| Slaughterhouse Cases | 1873 |
| Twining v. NJ | 1908 |
| Meyer v. Nebraska | 1923 |
| Palko v. CT | 1937 |
| Adamson v. CA | 1947 |
| Duncan v. LA | 1968 |
| McDonald v. City of Chicago | 2010 |
| Lochner v. NY | 1905 |
| US v. Carolene Products | 1938 |
| Williamson v. Lee Optical | 1955 |
| FCC v. Beach Comm. | 1993 |
| Meyer v. Nebraska | 1923 |
| Buck v. Bell | 1927 |
| Skinner v. Oklahoma | 1942 |
| Robinson v. CA | 1962 |
| Rochin v. CA | 1952 |
| Moore v. City of East Cleveland | 1977 |
| Michael H. v. Gerald D. | 1989 |
| Poe v. Ullman | 1961 |
| Griswold v. CT | 1965 |
| Eisenstadt v. Baird | 1972 |
| Roe v. Wade | 1973 |
| Bowers v. Hardwick | 1986 |
| PPH v. Casey | 1992 |
| Lawrence v. TX | 2003 |
| Gonzalez v. Carhart | 2007 |
| Lucas v. SC Coastal Council | 1992 |
| Near v. Minnesota | 1931 |
| NY Times v. US | 1971 |
| Coates v. Cincinnati | 1971 |
| Grayned v. City of Rockford | 1972 |
| Broadrick v. OK | 1973 |
| Patterson v. CO | 1907 |
| Masses Publishing Co. v. Patten | 1917 (SDNY) |
| Schenck v. US | 1919 |
| Debs v. US | 1919 |
| Whitney v. CA | 1927 |
| Chaplinsky v. NH | 1942 |
| Feiner v. NY | 1951 |
| Beauharnais v. IL | 1952 |
| Edwards v. SC | 1963 |
| NY Times v. Sullivan | 1964 |
| Brandenburg v. Ohio | 1969 |
| Cohen v. CA | 1971 |
| Miller v. CA | 1973 |
| Paris Adult Theater v. Slaton | 1973 |
| Gertz v. Robert Welch, Inc. | 1974 |
| City of LA v. Alameda Books | 2002 |
| US v. Stevens | 2010 |
| Minersville SChool District v. Gobitis | 1940 |
| WV School Board v. Barnette | 1943 |
| US v. O'Brien | 1968 |
| Spence v. WA | 1974 |
| Wooley v. Maynard | 1977 |
| TX v. Johnson | 1989 |
| RAV v. St. Paul | 1992 |
| BSA v. Dale | 2000 |
| VA v. Black | 2003 |
| Schneider v. NJ | 1939 |
| Adderley v. FL | 1966 |
| Frisby v. Schultz | 1988 |
| US v. Kokinda | 1990 |
| Int'l Society for Krishna v. Lee | 1992 |