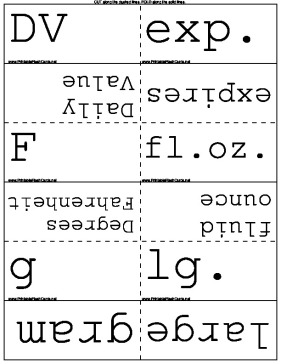 Medical Abbreviations flash cards
These medical abbreviations are very important for people learning English who may need to read a prescription or bottle of pills.
There are 18 flash cards in this set (3 pages to print.)
To use:
1. Print out the cards.
2. Cut along the dashed lines.
3. Fold along the solid lines.
My safe download promise
. Downloads are subject to this site's
term of use
.





Sample flash cards in this set:
Front: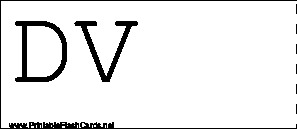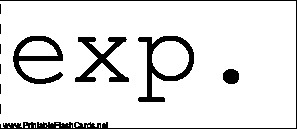 Back: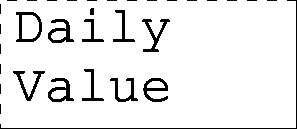 This set includes the following cards:
| Questions | Answers |
| --- | --- |
| DV | Daily Value |
| exp. | expires |
| F | Degrees Fahrenheit |
| fl.oz. | fluid ounce |
| g | gram |
| lg. | large |
| med. | medium |
| mg | milligram |
| ml | milliliter |
| net.wt | net weight |
| oz. | ounce |
| qty. | quantity |
| RDA | recommended daily allowance |
| RX | prescription |
| sm. | small |
| XL | extra Large |
| pharmacy | where you get medicine |
| Prescription | paper given to you by a doctor for medicine. |