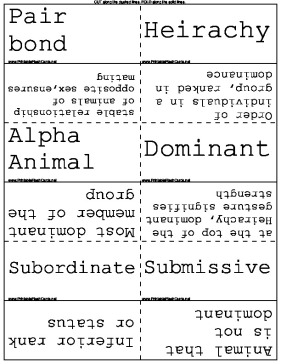 Social Hierarchy flash cards
These anthropology flash cards cover the social hierarchies of tribal mammals.
There are 18 flash cards in this set (3 pages to print.)
To use:
1. Print out the cards.
2. Cut along the dashed lines.
3. Fold along the solid lines.
My safe download promise
. Downloads are subject to this site's
term of use
.




Sample flash cards in this set:
Front: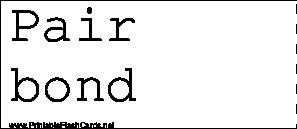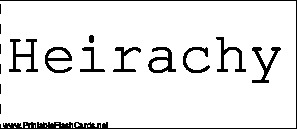 Back: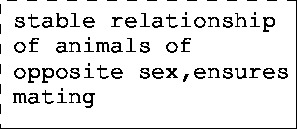 This set includes the following cards:
| Questions | Answers |
| --- | --- |
| Pair bond | stable relationship of animals of opposite sex,ensures mating |
| Heirachy | Order of individuals in a group, ranked in dominance |
| Alpha Animal | Most dominant member of the group |
| Dominant | at the top of the Heirachy, dominant gesture signifies strength |
| Subordinate | Inferior rank or status |
| Submissive | Animal that is not dominant |
| Ecological niche | The role of an organism in a community |
| Gause's Principle | similar species cannot co-exist for long in the same ecological niche |
| Leibigs law | Growth is controlled by the limiting factor |
| Camouflage | Concealment process, in which an animal blends in with something (usual background) |
| Mimicry | Adaptive similarities between unrelated species |
| Bastesian Mimicry | Resemblance of a harmless species to one that is poisonious |
| Mullerian Mimicry | Between unpalatable species |
| Hormone | Moves from one place to activate a chemical in another place |
| Monogamy | One male to one female per season e.g. gannet |
| Oviparous | Lays eggs |
| Viviparous | Produces live young |
| Monotreme | mammal that lays eggs |