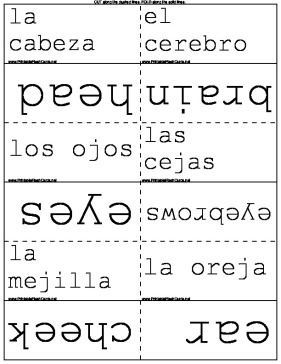 Spanish Body Parts and Illnesses flash cards
These flashcards cover Spanish words for body parts and illnesses. These words will be very useful if you ever find yourself hurt and in need of a Spanish-speaking doctor!
There are 63 flash cards in this set (11 pages to print.)
To use:
1. Print out the cards.
2. Cut along the dashed lines.
3. Fold along the solid lines.
My safe download promise
. Downloads are subject to this site's
term of use
.






Sample flash cards in this set:
Front: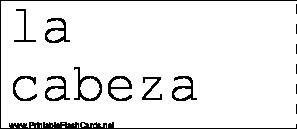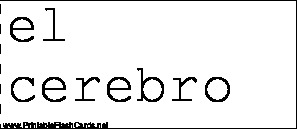 Back: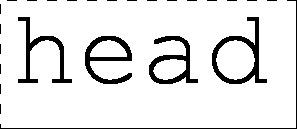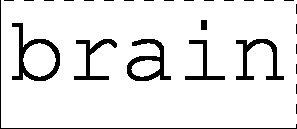 This set includes the following cards:
| Questions | Answers |
| --- | --- |
| la cabeza | head |
| el cerebro | brain |
| los ojos | eyes |
| las cejas | eyebrows |
| la mejilla | cheek |
| la oreja | ear |
| la nariz | nose |
| la boca | mouth |
| los labios | lips |
| los dientes | teeth |
| la garganta | throat |
| el brazo | arm |
| el hombro | shoulder |
| el codo | elbow |
| la muñeca | wrist |
| la mano | hand |
| el debo | fingers |
| la uña | finger/toe nail |
| la pierna | leg |
| el muslo | thigh |
| la rodilla | knee |
| la pantorilla | calf |
| el tobillo | ankle |
| el pie | foot |
| el debo del pie | toes |
| el corazón | heart |
| el estómago | stomach |
| los pulmones | lungs |
| el hueso | bone |
| la piel | skin |
| la partes del cuerpo | parts of the body |
| ¿Qué te paso? | What happened to you? |
| ¿Qué tienes? | What's the matter with you? |
| romper | to break |
| torcer | to twist |
| caerse | to fall |
| mismo hierdo | to hurt oneself |
| darle un calambre | to get a cramp |
| tener in calambre | to have a cramp |
| volcar | to bump |
| estornudar | to get sick |
| enfermarse | to get sick |
| estar enfermo | to be sick |
| tiene un refriado | to have a cold |
| resfriarse | to catch a cold |
| tener tos | to have a cold |
| cortarse | to cut onself |
| quemarse | to get burned/sunburn |
| Ahora lo tengo infectado. | Now it's infected. |
| Estoy mal. Tengo tos y me duele la garganta. | I'm sick. I have a cough and my throat hurts. |
| Tengo un dolor de cabeza que no se me quita. | I have a headache that won't go away. |
| calentarse (ie) | to warm up |
| ¡Pobrecito(a)! Tómate unas aspirinas y descansa un poco. | Poor thing! Take some aspirin and rest a bit. |
| Quédate en cama y tómate este jarabe. | Stay in bed and take this cough syrup. |
| tener cuidado | to be careful |
| vendarse | to bandage, to wrap |
| tomarse unas pastillas | to take some pills |
| pnerse | to put on |
| el ungüento | ointment |
| la curita | adhesive bandage |
| el hielo | ice |
| Body part+ estar+ hinchado(a) | _____ is swollen. |
| Body part+ estar+ infectado(a) | ______ is infected. |