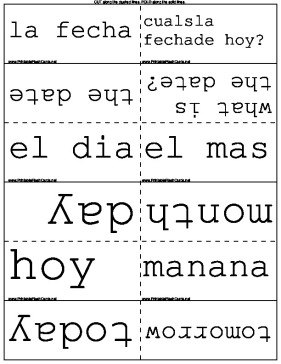 Spanish Dates flash cards
This set of flashcards covers days, months, and other date-related words in Spanish.
There are 28 flash cards in this set (5 pages to print.)
To use:
1. Print out the cards.
2. Cut along the dashed lines.
3. Fold along the solid lines.
My safe download promise
. Downloads are subject to this site's
term of use
.






Sample flash cards in this set:
Front: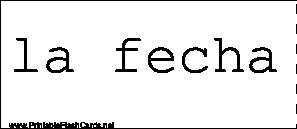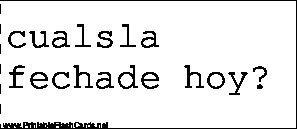 Back: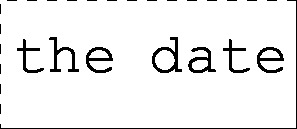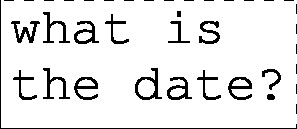 This set includes the following cards:
| Questions | Answers |
| --- | --- |
| la fecha | the date |
| cualsla fechade hoy? | what is the date? |
| el dia | day |
| el mas | month |
| hoy | today |
| manana | tomorrow |
| la semona | week |
| el ano | year |
| que dia es hoy? | what is the date today? |
| lunes | monday |
| martes | tuesday |
| miercoles | wednesday |
| jueves | thursday |
| viernes | friday |
| sabado | saturday |
| domingo | sunday |
| enero | january |
| febraro | feburary |
| marzo | march |
| abril | april |
| mayo | may |
| junio | june |
| julio | july |
| agosto | august |
| septiembre | september |
| octobre | october |
| noviembre | novmeber |
| diciembre | december |