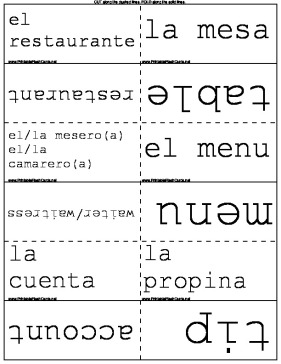 Spanish Food Words flash cards
These Spanish language flashcards are great for anyone trying to learn this language. These cards cover food and restaurant words, including many important and useful words.
There are 44 flash cards in this set (8 pages to print.)
To use:
1. Print out the cards.
2. Cut along the dashed lines.
3. Fold along the solid lines.
My safe download promise
. Downloads are subject to this site's
term of use
.






Sample flash cards in this set:
Front: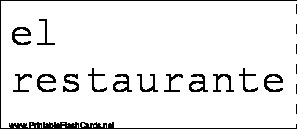 Back: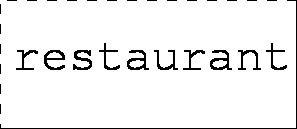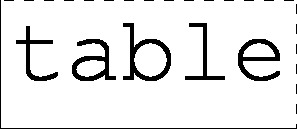 This set includes the following cards:
| Questions | Answers |
| --- | --- |
| el restaurante | restaurant |
| la mesa | table |
| el/la mesero(a) el/la camarero(a) | waiter/waitress |
| el menu | menu |
| la cuenta | account |
| la propina | tip |
| la taza | cup |
| el platillo | pan |
| el plato | plate |
| el tenedor | holder |
| el cuchillo | knife |
| la cucharita | teaspoon |
| la chuchara | spoon |
| el mantel | place mat |
| la servilleta | napkin |
| poner la mesa | to set the table |
| levantar (quitar) la mesa | to clear the table |
| pedir | to ask for |
| servir | to serve |
| dejar una propina | to leave a tip |
| repetir | to repeat |
| freir | to fry |
| los comestibles | food |
| la carne | meat |
| la carne de res | beef |
| el bistec | steak |
| la chuleta de cerdo | chop |
| el cordero | lamb |
| los mariscos | seafood |
| los mejillones | mussels |
| las almejas | clams |
| la langosta | lobster |
| la sal | salt |
| la pimienta | pepper |
| el aceite | oil |
| el vinagre | vinegar |
| casi crudo | almost raw |
| a termino medio | to medium |
| bien hecho | well-done |
| seguir | to follow |
| vestirse | to get dressed |
| divertirse | to have fun |
| morir | to die |
| Me muero de hambre | I'm starving |