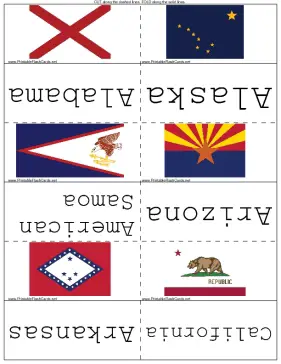 State Flags (hard version) flash cards
These flash cards will help you memorize the flags of the U.S. States and territories. However, in this set of flash cards we've removed the names of the states when they appear on the flag, so it's a little harder.
There are 56 flash cards in this set (10 pages to print.)
To use:
1. Print out the cards.
2. Cut along the dashed lines.
3. Fold along the solid lines.
My safe download promise
. Downloads are subject to this site's
term of use
.






Sample flash cards in this set:
Front: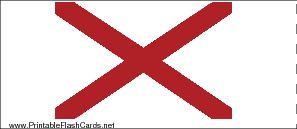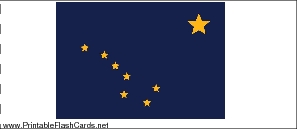 Back: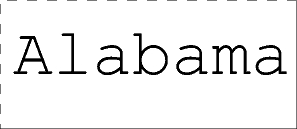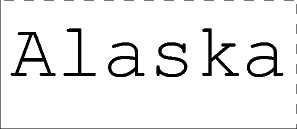 This set includes the following cards:
| Questions | Answers |
| --- | --- |
| (Image) | Alabama |
| (Image) | Alaska |
| (Image) | American Samoa |
| (Image) | Arizona |
| (Image) | Arkansas |
| (Image) | California |
| (Image) | Colorado |
| (Image) | Connecticut |
| (Image) | Delaware |
| (Image) | Florida |
| (Image) | Georgia |
| (Image) | Guam |
| (Image) | Hawaii |
| (Image) | Idaho |
| (Image) | Illinois |
| (Image) | Indiana |
| (Image) | Iowa |
| (Image) | Kansas |
| (Image) | Kentucky |
| (Image) | Louisiana |
| (Image) | Maine |
| (Image) | Maryland |
| (Image) | Massachusetts |
| (Image) | Michigan |
| (Image) | Minnesota |
| (Image) | Mississippi |
| (Image) | Missouri |
| (Image) | Montana |
| (Image) | Nebraska |
| (Image) | Nevada |
| (Image) | New Hampshire |
| (Image) | New Jersey |
| (Image) | New Mexico |
| (Image) | New York |
| (Image) | North Carolina |
| (Image) | North Dakota |
| (Image) | Northern Mariana Islands |
| (Image) | Ohio |
| (Image) | Oklahoma |
| (Image) | Oregon |
| (Image) | Pennsylvania |
| (Image) | Puerto Rico |
| (Image) | Rhode Island |
| (Image) | South Carolina |
| (Image) | South Dakota |
| (Image) | Tennessee |
| (Image) | Texas |
| (Image) | Utah |
| (Image) | Vermont |
| (Image) | virginia |
| (Image) | Virgin Islands |
| (Image) | Washington D.C. |
| (Image) | Washington |
| (Image) | West Virginia |
| (Image) | Wisconsin |
| (Image) | Wyoming |