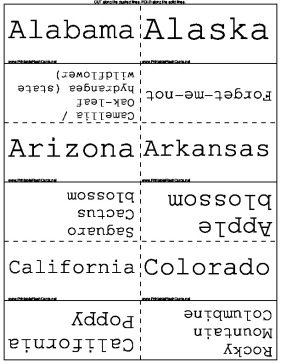 State Wildflowers flash cards
These flashcards will help you learn the state flowers for all 50 states. If an alternative flower is commonly used, it is listed as well.
There are 50 flash cards in this set (9 pages to print.)
To use:
1. Print out the cards.
2. Cut along the dashed lines.
3. Fold along the solid lines.
My safe download promise
. Downloads are subject to this site's
term of use
.






Sample flash cards in this set:
Front: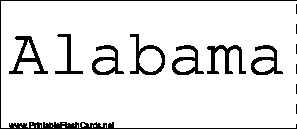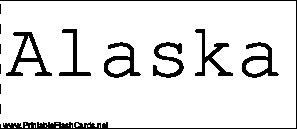 Back: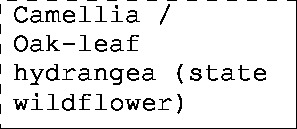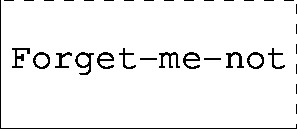 This set includes the following cards:
| Questions | Answers |
| --- | --- |
| Alabama | Camellia / Oak-leaf hydrangea (state wildflower) |
| Alaska | Forget-me-not |
| Arizona | Saguaro Cactus blossom |
| Arkansas | Apple blossom |
| California | California Poppy |
| Colorado | Rocky Mountain Columbine |
| Connecticut | Mountain laurel |
| Delaware | Peach blossom |
| Florida | Orange blossom |
| Georgia | Cherokee Rose / Azalea (state wildflower) |
| Hawaii | Hawaiian hibiscus (ma'o hau hele) |
| Idaho | Mock Orange |
| Illinois | Purple Violet |
| Indiana | Peony |
| Iowa | Wild Prairie Rose |
| Kansas | Sunflower |
| Kentucky | Goldenrod |
| Louisiana | Magnolia / Louisiana Iris (state wildflower) |
| Maine | White pine cone and tassel |
| Maryland | Black-eyed susan |
| Massachusetts | Mayflower |
| Michigan | Apple blossom / Dwarf Lake Iris (state wildflower) |
| Minnesota | Pink and white lady's slipper |
| Mississippi | Magnolia / Tickseed (state wildflower) |
| Missouri | Hawthorn |
| Montana | Bitterroot |
| Nebraska | Goldenrod |
| Nevada | Sagebrush |
| New Hampshire | Purple lilac |
| New Jersey | Violet |
| New Mexico | Yucca flower |
| New York | Rose |
| North Carolina | American Dogwood |
| North Dakota | Wild Prairie Rose |
| Ohio | Scarlet Carnation / Large white trillium (state wild flower) |
| Oklahoma | Oklahoma Rose / Mistletoe (floral emblem) / Indian Blanket (state wildflower) |
| Oregon | Oregon grape |
| Pennsylvania | Mountain Laurel |
| Rhode Island | Violet |
| South Carolina | Yellow Jessamine / Goldenrod (state wildflower) |
| South Dakota | Pasque flower |
| Tennessee | Iris / Purple Passionflower (state wildflower) |
| Texas | Bluebonnet |
| Utah | Sego lily |
| Vermont | Red Clover |
| Virginia | American Dogwood |
| Washington | Coast Rhododendron |
| West Virginia | Rhododendron |
| Wisconsin | Wood Violet |
| Wyoming | Indian Paintbrush |