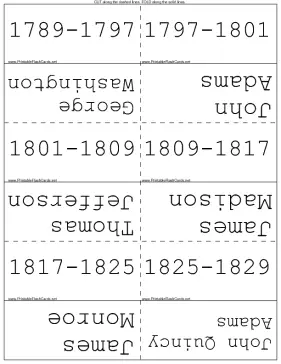 United States Presidents flash cards
Use these flash cards to memorize United States presidents and their terms in office.
There are 44 flash cards in this set (8 pages to print.)
To use:
1. Print out the cards.
2. Cut along the dashed lines.
3. Fold along the solid lines.
My safe download promise
. Downloads are subject to this site's
term of use
.






Sample flash cards in this set:
Front: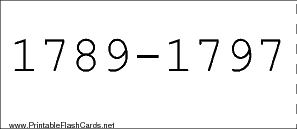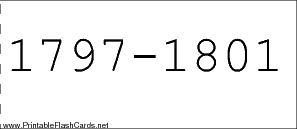 Back: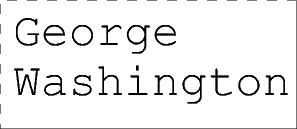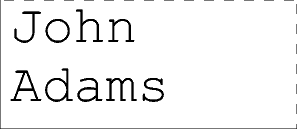 This set includes the following cards:
| Questions | Answers |
| --- | --- |
| 1789-1797 | George Washington |
| 1797-1801 | John Adams |
| 1801-1809 | Thomas Jefferson |
| 1809-1817 | James Madison |
| 1817-1825 | James Monroe |
| 1825-1829 | John Quincy Adams |
| 1829-1837 | Andrew Jackson |
| 1837-1841 | Martin Van Buren |
| 1841-1841 (died in office) | William Henry Harrison |
| 1841-1845 | John Tyler |
| 1845-1849 | James K. Polk |
| 1849-1850 | Zachary Taylor |
| 1850-1853 | Millard Fillmore |
| 1853-1857 | Franklen Pierce |
| 1857-1861 | James Buchanan |
| 1861-1865 | Abraham Lincoln |
| 1865-1869 | Andrew Johnson |
| 1869-1877 | Ulysses S. Grant |
| 1877-1881 | Rutherford B. Hayes |
| 1881 (died in office) | James A. Garfield |
| 1881-1885 | Chester A. Arthur |
| 1885-1889 | Grover Cleveland |
| 1889-1893 | Benjamin Harrison |
| 1893-1897 | Grover Cleveland |
| 1897-1901 | William McKinley |
| 1901-1909 | Theodore Roosevelt |
| 1909-1913 | William Howard Taft |
| 1913-1921 | Woodrow Wilson |
| 1921-1923 | Warren G. Harding |
| 1923-1929 | Calvin Coolidge |
| 1929-1933 | Herbert Hoover |
| 1933-1945 | Franklin D. Roosevelt |
| 1945-1953 | Harry S. Truman |
| 1953-1961 | Dwight D. Eisenhower |
| 1961-1963 | John F. Kennedy |
| 1963-1969 | Lyndon B. Johnson |
| 1969-1974 | Richard M. Nixon |
| 1974-1977 | Gerald R. Ford |
| 1977-1981 | Jimmy Carter |
| 1981-1989 | Ronald Reagan |
| 1989-1993 | George Bush |
| 1993-2001 | Bill Clinton |
| 2001-2009 | George W. Bush |
| 2009 -Present | Barack H. Obama |