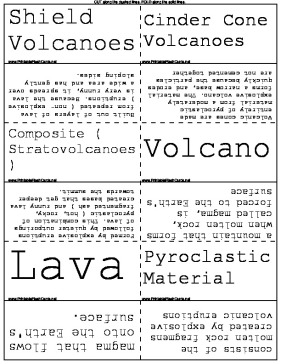 Volcanos flash cards
Volcanos are one of nature's grandest spectacles. Now you can learn all about these terrifying geological features with these challenging flashcards.
There are 9 flash cards in this set (2 pages to print.)
To use:
1. Print out the cards.
2. Cut along the dashed lines.
3. Fold along the solid lines.
My safe download promise
. Downloads are subject to this site's
term of use
.



Sample flash cards in this set:
Front: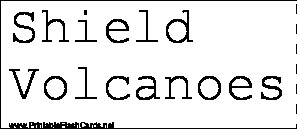 Back: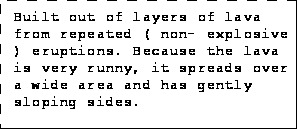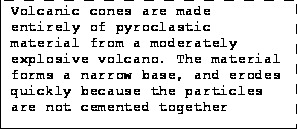 This set includes the following cards:
| Questions | Answers |
| --- | --- |
| Shield Volcanoes | Built out of layers of lava from repeated ( non- explosive ) eruptions. Because the lava is very runny, it spreads over a wide area and has gently sloping sides. |
| Cinder Cone Volcanoes | Volcanic cones are made entirely of pyroclastic material from a moderately explosive volcano. The material forms a narrow base, and erodes quickly because the particles are not cemented together |
| Composite ( Stratovolcanoes ) | Formed by explosive eruptions followed by quieter outporings of lava. This combination of pyroclastic ( hot, rocky, fragmented ash ) and runny lava created bases that get deeper towards the summit. |
| Volcano | a mountain that forms when molten rock, called magma, is forced to the Earth's surface |
| Lava | magma that flows onto the Earth's surface. |
| Pyroclastic Material | consists of the molten rock fragmens created by explosive volcanic eruptions |
| Magma | Deep underground the driving force that creates volcanoes is hot, liquid rock known as magma that collects in chambers. |
| Vents | The holes in the Earth's crust that magma rises through |
| Crater | The top, central, funnel shaped vent of a volcano. |