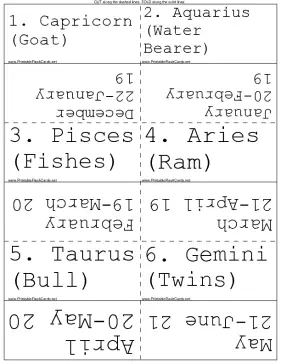 Zodiac Signs flash cards
Complete list of Zodiac signs, their symbols, and the corresponding dates for each.
There are 12 flash cards in this set (2 pages to print.)
To use:
1. Print out the cards.
2. Cut along the dashed lines.
3. Fold along the solid lines.
My safe download promise
. Downloads are subject to this site's
term of use
.



Sample flash cards in this set:
Front: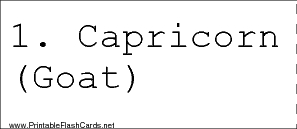 Back: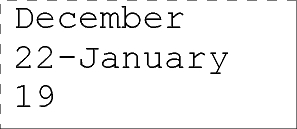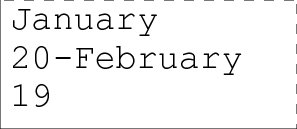 This set includes the following cards:
| Questions | Answers |
| --- | --- |
| 1. Capricorn (Goat) | December 22-January 19 |
| 2. Aquarius (Water Bearer) | January 20-February 19 |
| 3. Pisces (Fishes) | February 19-March 20 |
| 4. Aries (Ram) | March 21-April 19 |
| 5. Taurus (Bull) | April 20-May 20 |
| 6. Gemini (Twins) | May 21-June 21 |
| 7. Cancer (Crab) | June 22-July 22 |
| 8. Leo (Lion) | July 23-August 22 |
| 9. Virgo (Virgin) | August 23-September 22 |
| 10. Libra (Scales) | September 23-October 22 |
| 11. Scorpio (Scorpion) | October 24-November 21 |
| 12. Sagittarius (Archer) | November 22-December 21 |